Sorry Folks!  The beach is closed.
Just in case you thought you might be missing out on your Spring break, here are some photos to show you that nothing is going on around here.  It is not business as usual, at the beach, or anywhere in the United States right now.   The beach is closed.  Orange Beach and Gulf Shores are both ghost towns like never before.  Today I took the camera around to some of the most popular tourist attractions and restaurants. Usually, this time of year, they would all be packed, but not so now.  Take a minute and scroll through these photos to see if you spot a few of your favorite places.
The latest order in Alabama is for all non-essential businesses in Alabama to remain closed until April 17 due to the Covid-19 Pandemic.  Until then, the beach is closed!
In a beach town, most of our businesses are non-essential.  We thrive on having tourists in our area, so restaurants, entertainment, and recreational activities are abundant in Orange Beach and Gulf Shores, Alabama.  For this reason, the beach is closed, which has taken a toll on our city.  I am thankful that everyone has received the order seriously, in the hopes that it stops the spread and flattens the curve of this nasty virus.  When it is all behind us, we will be so thankful to be up and running again.
What is your favorite restaurant or activity?
While making the rounds today while the beach is closed, I was overwhelmed with which ones to photograph.  We were in the Jeep, and it is a hot one today, so I couldn't stop at everyone we passed.  I tried to hit the famous landmarks, like the Hangout, LuLu's, Florabama, and Waterville.  Then I started thinking; everyone loves Waffle House and all of the souvenir stores while on vacation!  Let me tell you, the roads are empty and the place is a ghost town!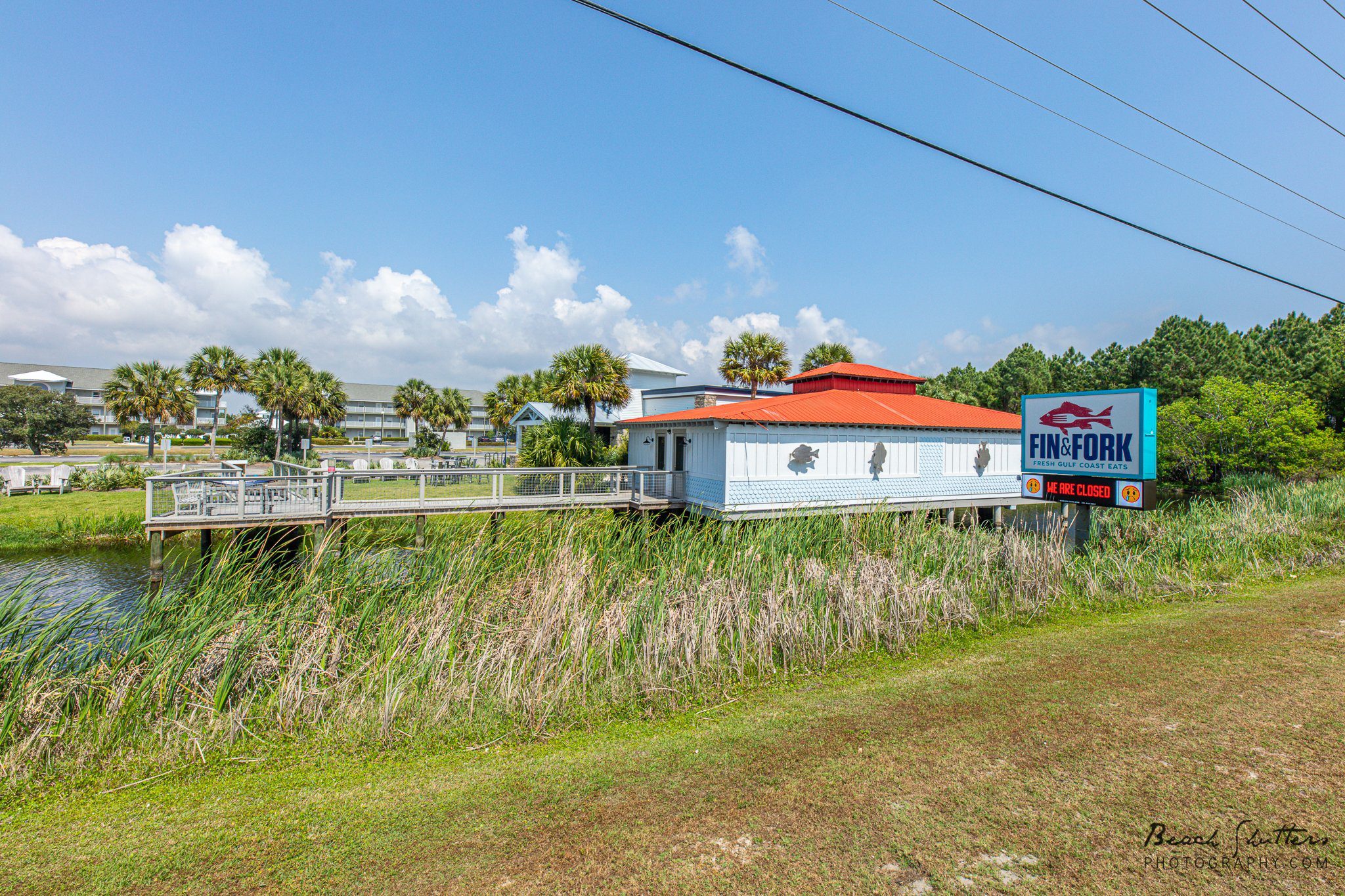 We are not alone in this.
I have seen the images of much larger cities with empty streets and attractions.  Seeing these photos is one of the reasons that I decided to photograph Orange Beach and Gulf Shores.  With all of our visitors gone, I have never seen the beaches so empty!  I mean there is absolutely nothing going on at the beach!
Is it the same in your town?
Mean old Mr. Covid has taken his toll on all of us, hasn't he!  I do feel somewhat lucky to live where the weather is excellent.  We have had the opportunity to take the boat out, ride our bikes, and our tennis game has improved tremendously!  With schools closed, family time has become the norm, and we are pulling out board games and have watched several classic movies together.  In that respect, it is not all bad!
I am looking forward to putting all of this behind us.
In the meantime, we are looking for the good in all of this.  Summer was so excited to see that McDonald's drive-thru was open.  She has been suffering through my cooking for a couple of weeks, lol!  I may just come out of this a better cook, and thankful for the little things, like my favorite restaurants being open!  On a serious note, let us continue to be supportive of one another and look out for our elderly friends and family.  I am so proud of our town pulling together in this way.  The mayor is sending city employees and our OBPD out for wellness checks and deliveries to the elderly.  In some way, this Pandemic may just bring out the best in us.
The beach will still be here when this is over, better than ever!
We will be back to normal soon, and I am counting on it!  The beach cannot stay closed forever; neither can the salons, theaters, watermarks, or photographers.  When we are open again, I look forward to seeing all of these businesses thriving still, and seeing our town full of smiling visitors here on vacation!