Beach Shutters Orange Beach and Gulf State Park Photo locations
Favorite Sunset Photo Locations
Beach Shutters has three favorite photo locations that we primarily use. I am excited that Maura, Kenzie & Alexis all chose different beaches for their photos. Now, you can have a great example of each.   Our two most popular sunset locations are the Pavilion in Gulf Shores and Johnson's Beach in Perdido Key. Indeed, both offer an uninterrupted coastline view and a background without buildings blocking the sun. The different scenes at our sites are sea oats, dunes, and boardwalks. Sunrise Photo Sessions
Alabama Point East is the only location with jetties if you prefer the rocks. Along with this choice comes a free hike. There is a .25-mile walkway leading to the beach. This location is very crowded at sunset, so we only meet at the APE for sunrise sessions.
Honorable Mention Photo Spots
As mentioned earlier, these are our most popular choices, but not the only locations. Our honorable mentions are Burgoyne (aka No Name Road), Mobile Street on Fort Morgan Road, 13th Street in Gulf Shores, and Shell Beach, aka the Sandlot in Orange Beach, to name a few. Sometimes your rental condo or beach house will fit your needs. Furthermore, Turquoise Place & Phoenix West 2 are great condos with photo-worthy beaches. Also, there are plenty of private beaches that may do the trick.
On Windy Days, we head to the Bays!
Suppose the wind is above ten mph. You may want to consider one of our Bay locations at the beach. Even if the winds are not blowing, the Coastal Arts Center or the Wharf in Orange Beach are attractive alternatives to beach photos. Both are protected from southern winds and offer their charming backgrounds.
If you are undecided, you can always ask us. We will suggest a suitable location close to your rental property.
Gulf State Park Beach Pavillon – in-between Orange Beach and Gulf Shores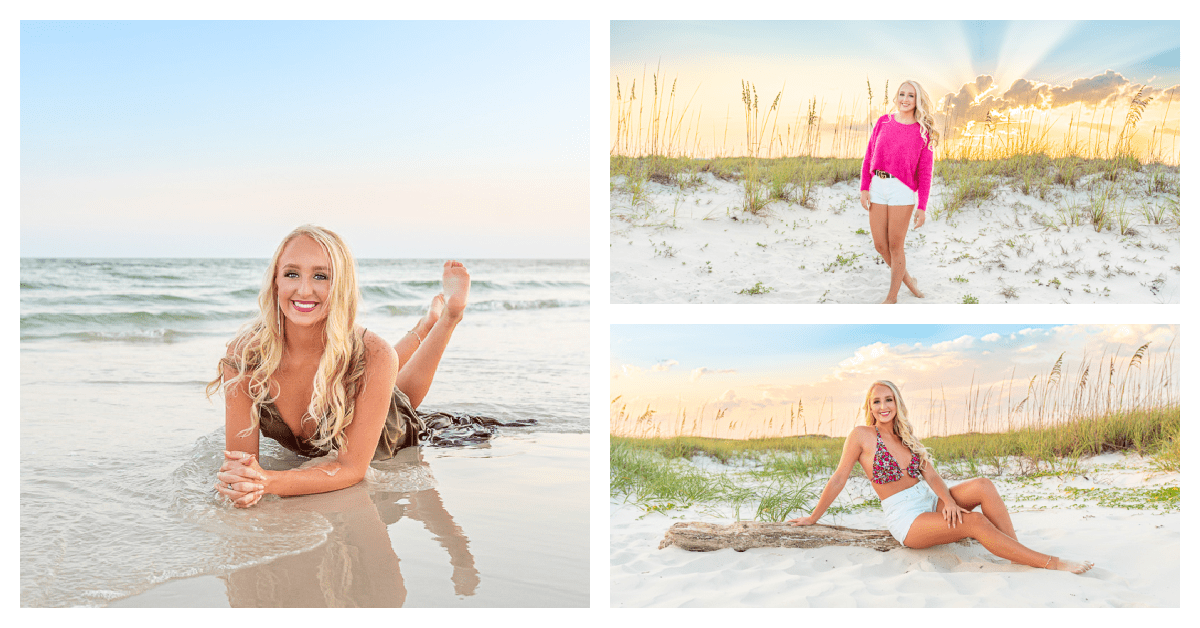 This Photo location is excellent for the elderly or families traveling with small children. The walk is short, and the view is superb. In addition to beautiful dunes, there are picturesque boardwalks and a  bonus palm tree. As always, there are gulf and beach views.
Beach Shutters would like to support our local beaches in Leaving Only Footprints. Thank you for joining us to keep our beaches beautiful and respect the protected areas. 
Alabama Point East- Gulf State Park Boardwalk at Perdido Pass – Sunrise Location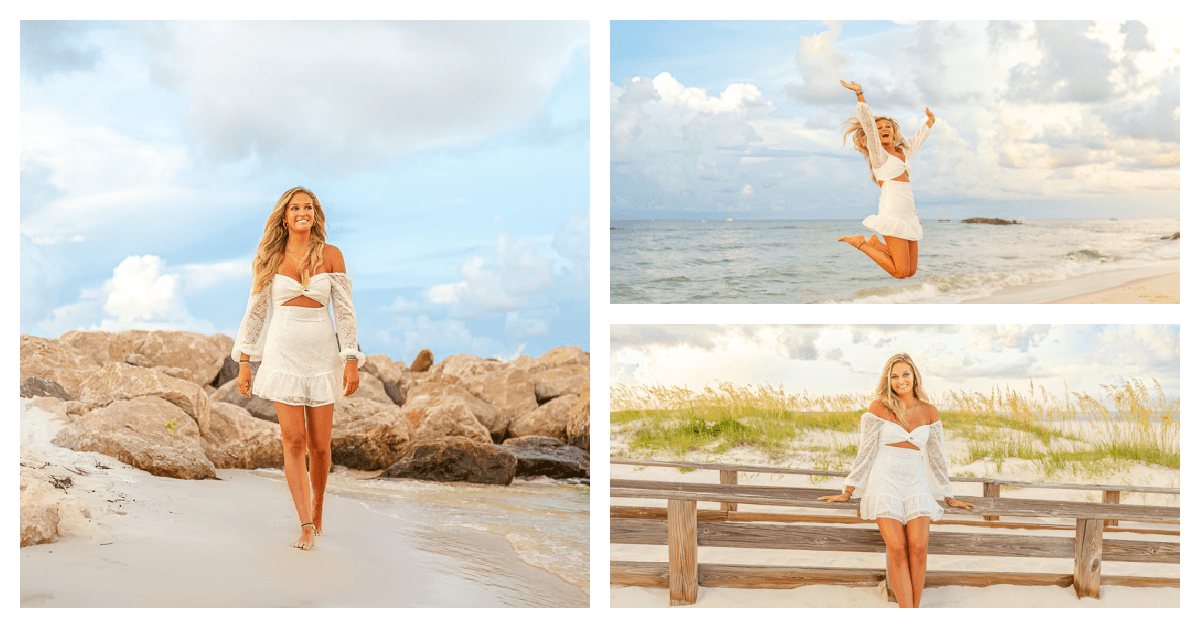 The Pass photo location is suitable for Sunrise sessions.
Our clients have plenty of backgrounds available at this site, including a Boardwalk, Sand Path, Dunes, Granite Rocks, and perfect beach and gulf views.
Please note a 0.4-mile walk down the boardwalk to reach this picturesque location.
Johnson's Beach Location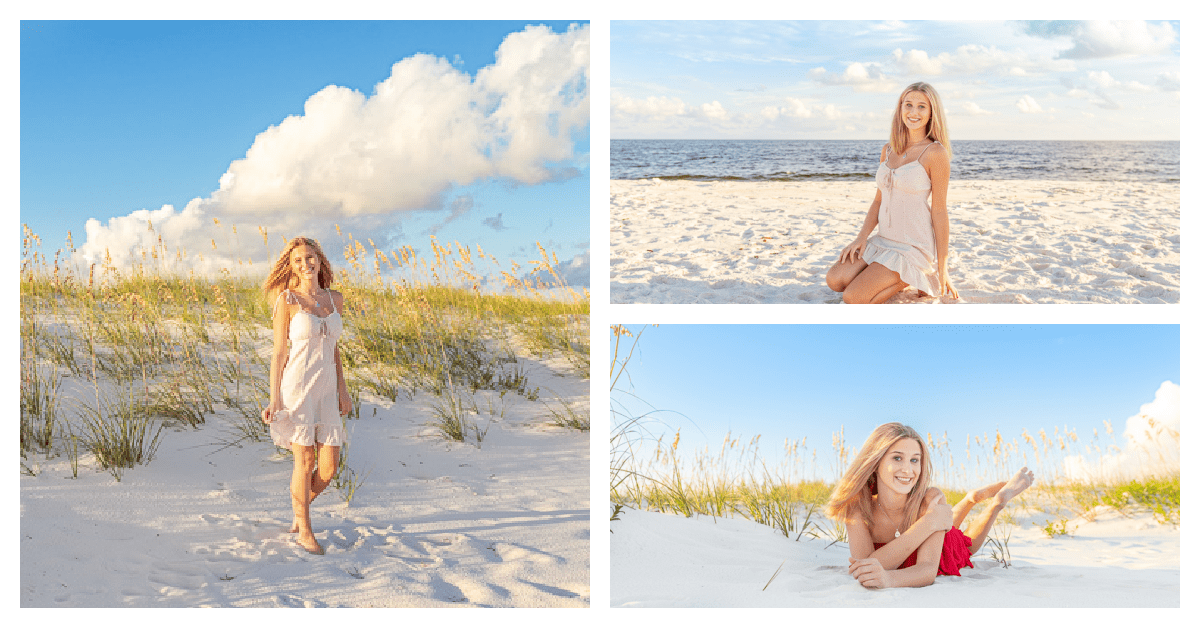 Johnson's beach location is a Florida State Park located in Perdido Key.   Not only does this location offer miles of sandy white beaches, but there are also dunes and sea oats. Furthermore, this location is suitable for both sunrise and sunset sessions. The one drawback is that there is sometimes an entry fee of $20 per car. But, as always, parking at our state parks is free for veterans.