Beach Shutters Wedding Portraits
Documenting your wedding day in true beach style is the hallmark of my work. I love getting to know you as a couple and making it my goal to WOW you with extraordinary wedding portraits of your special day. I thoroughly enjoy working with couples who put their heart and soul into a destination wedding experience for their friends and families. Small and intimate or large and extravagant, whatever your style may be… Let's capture it artistically!
Small intimate beach weddings
 Just the Two of us Beach Wedding
For your elopement Beach Wedding with 1 hour of coverage of your ceremony with 1 Photographer
$750 includes 35 edited photos with a Print Release.
Retainer to reserve your date is $100
This package is for Bride, Groom, and Officiant only. Larger weddings with attendants will need to choose a larger wedding portrait package.
Small Ceremony Package
Coverage of your Beach Wedding up to 2 hours of range of your ceremony with 1 Photographer
$1200 includes 75 photos with a Print Release.
Retainer to Reserve your date is $250
Our Small ceremony beach package is perfect for weddings with witnesses and family attendance.  (up to 20) This package does not cover receptions or pre-wedding portraits.
WEDDING AND RECEPTION PACKAGES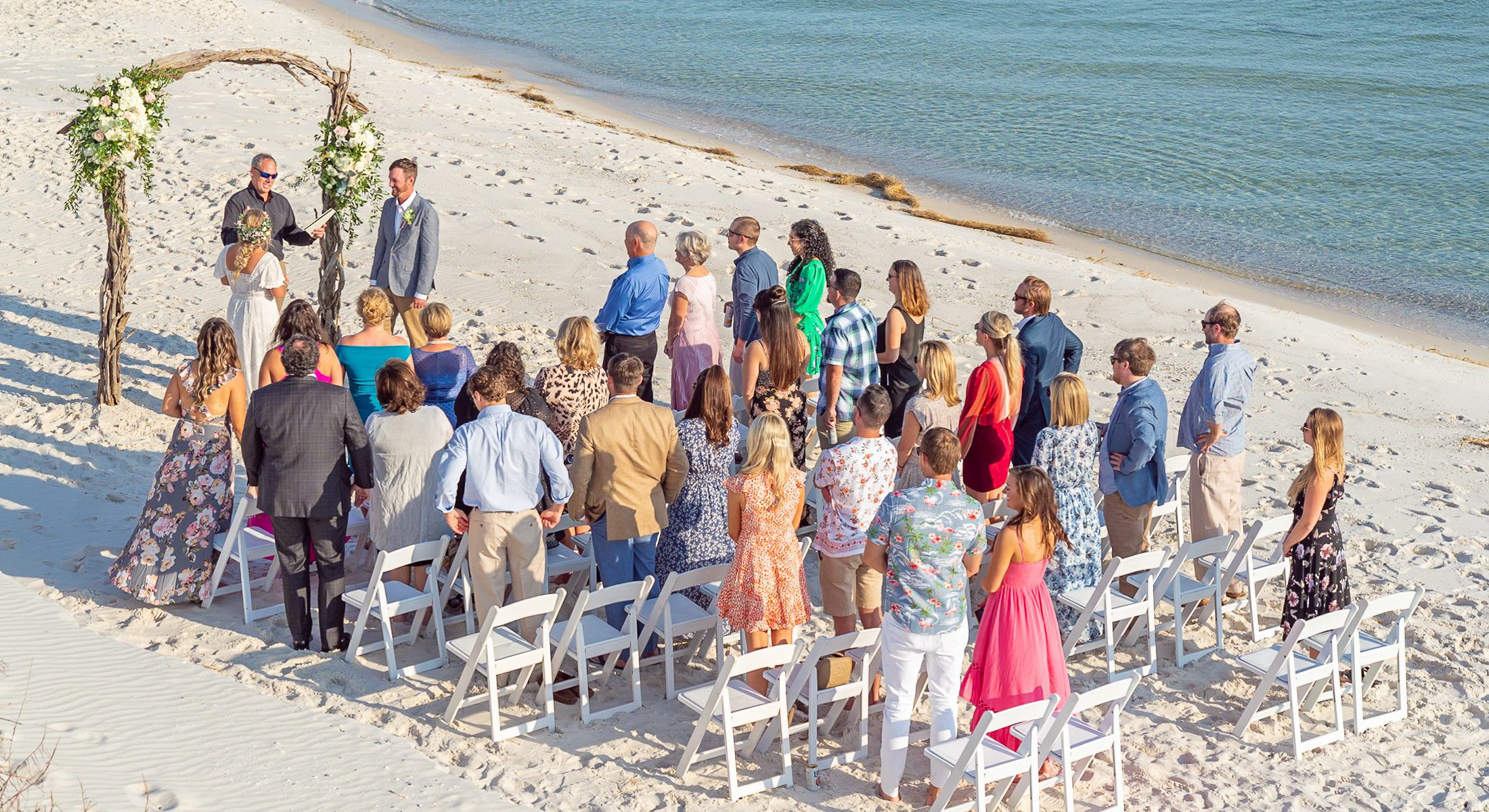 The Big Wedding & Reception packages will include ALL Keeper Photos – We do not set a picture limit on how many photos we take during your event. We will take 100's-1000's photographs on the big day. Some images will make it to your gallery because they do not meet our standards. After your wedding portraits are taken, we will crop, cull and delete any that do not meet standards. Some Examples of non-keepers: eyes closed, the Photo was not in perfect focus, or my personal favorite is the inappropriate photobomb.
Now, here is the good part! We color correct, enhance, and white balance every wedding portrait before delivery. Afterward, you can sit down and choose the photos through our extra ending process. Our additional edits include teeth whitening, eye enhancements, face blemishes, and removing different objects from the background (extra people, trash, signs, etc.). Beach Shutters also can enhance the sky even more, along with any other reasonable requests. These additional edits are for the photos to make it to canvas or your wedding album.
4-hour package- Choose 50 photos to be highly edited after delivery
7-hour package- choose 100 images to be highly edited after delivery 
Thank you for visiting my Wedding Page. See you at the Beach!